Rai, Storm Seer (trading card)
A card in the Grand Archive trading card game.
Table of Contents
DOAp · EN-008 C
This card is part of the Dawn of Ashes Prelude set.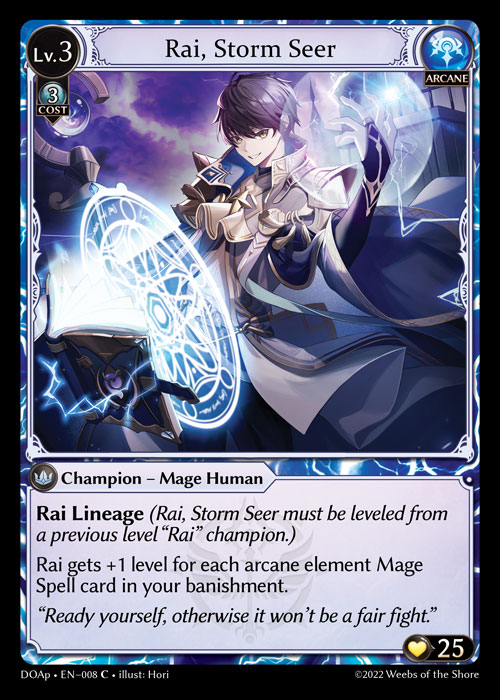 Effect
Rai Lineage

(Rai, Storm Seer must be leveled from a previous level "Rai" champion.)

(Arcane element is enabled for you.)

Rai gets +1 level for each arcane element mage card in your banishment.
Population
Normal – ≈7,500
For the full card stats, view this card on Grand Archive Index.
KSP · EN-003 PR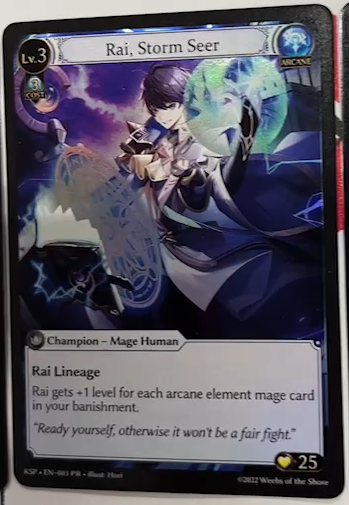 A foil version of the Rai, Storm Seer card was included in the Kickstarter promo set.
This card was announced alongside the Lorraine, Crux Knight (KSP · EN-002 PR) Kickstarter promo on 27th December 2021 in Kickstarter update #9.
Encouraged as tournament prizes or free gifts included with purchases, all Game Store Tier 1 and Game Store Tier 2 Kickstarter backers received one copy of this and Lorraine, Crux Knight (KSP · EN-002 PR) for every starter kit they ordered.
This card was originally identified as KS PROMO-006.
By default each Game Store Tier 1 backer received 6 starter kits and each Game Store Tier 2 backer received 18. Whilst we do not know how many additional starter kits were ordered as add-ons, we can use this to say that this card has a population of at least 2,358.