Lorraine, Blademaster (trading card)
A card in the Grand Archive trading card game.
Table of Contents
DOAp · EN-004 C
This card is part of the Dawn of Ashes Prelude set.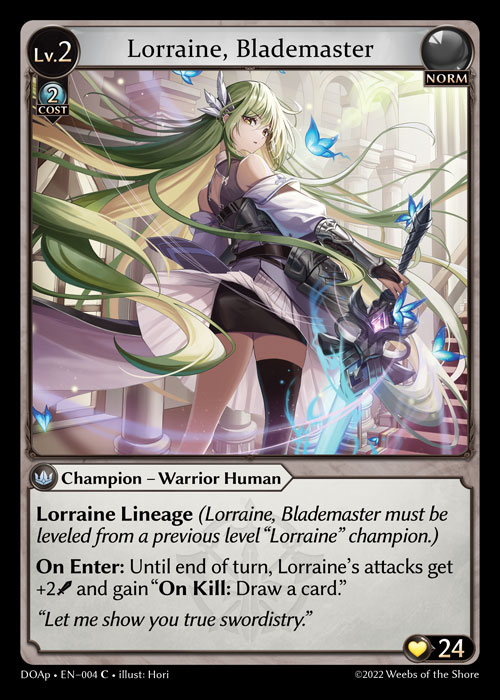 Effect
Lorraine Lineage

(Lorraine, Blademaster must be leveled from a previous level "Lorraine" champion.)

On Enter:

Until end of turn, Lorraine's attacks get +2 and gains "

On Kill:

Draw a card."
Rules
2022-03-10 – With the On Enter effect, Lorraine's attacks get the additional effects, not Lorraine herself. This means that Lorraine still needs a weapon or attack card in order to declare attacks because she does not have an attack stat.
Population
Normal – ≈7,500
For the full card stats, view this card on Grand Archive Index.
KSP · EN-001 PR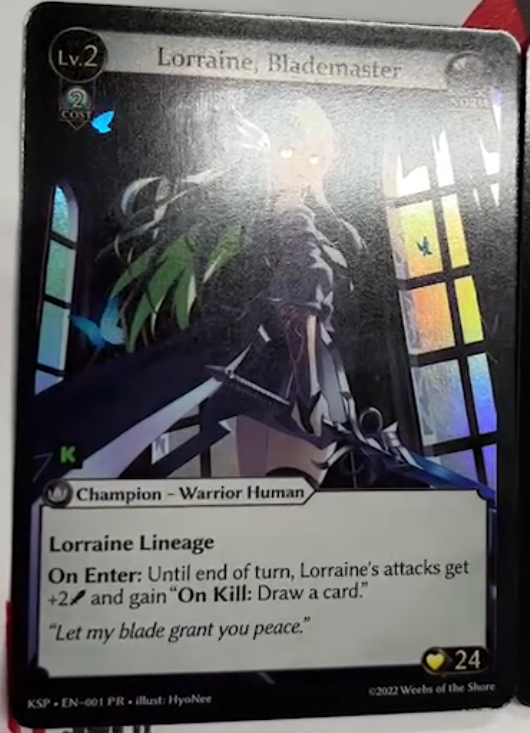 An alternative artwork version of the Lorraine, Blademaster card was included in the Kickstarter promo set.
It included as a reward in certain Kickstarter tiers:
Diamond Tier – x1
Champion Tier – x2
Grand Champion Tier – x5
Designer Tier – x10
Game Store Tier 1 – x1
Game Store Tier 2 – x2
Based on the total number of backers for those tiers, this gives the card a population of 873.