Library Witch (trading card)
A card in the Grand Archive trading card game.
Table of Contents
DOAp · EN-042 C
This card is part of the Dawn of Ashes Prelude set.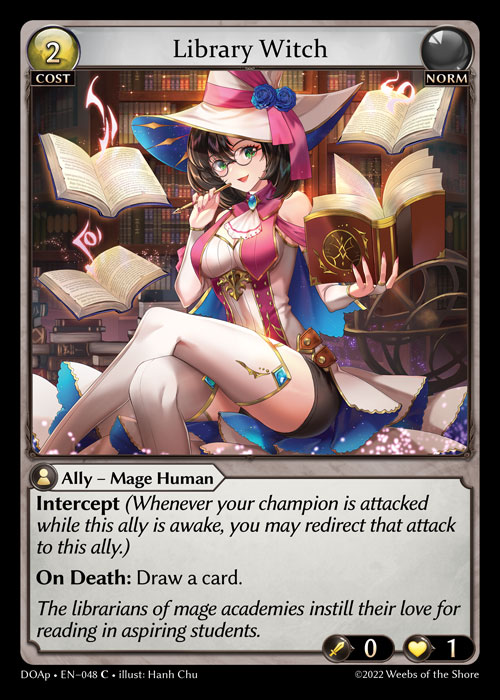 Effect
Intercept

(When your champion is attacked while this ally is awake, you may redirect that attack to this ally.)

On Death:

Draw a card.
Population
Normal – ≈30,000
For the full card stats, view this card on Grand Archive Index.
KSP · EN-008 PR
This card is part of the Kickstarter promo set.
As part of the $250k Kickstarter stretch goal, on 11th March 2022 in Kickstarter update #18 the community was given the opportunity to vote for an Ally card to receive an alternative artwork.
Despite being a card awarded exclusively to Kickstarter backers, the vote itself was made available to the entire community.
The vote was between Banner Knight, Barrier Servant, Blitz Mage, Crusader of Aesa, Dream Fairy, Esteemed Knight, Honorable Vanguard, Impassioned Tutor, Library Witch, Magus Disciple and Weaponsmith.
On 22nd April 2022 in Kickstarter update #21 it was announced that Library Witch was the winner with 93 of the 259 votes received (35.9%).
This card was awarded to anyone who backed the Kickstarter campaign, giving it a total population of 1,539.