Clarent, Sword of Peace (trading card)
A card in the Grand Archive trading card game.
Table of Contents
DOAp · EN-010 R
This card is part of the Dawn of Ashes Prelude set.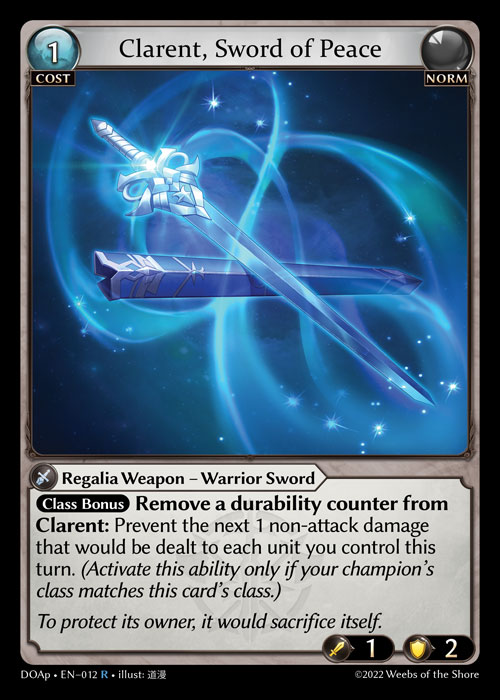 Effect
Class Bonus

Remove a durability counter from Clarent:

Prevent the next 1 non-attack damage that would be dealt to each unit you control this turn.

(Activate this ability only if your champion's class matches this card's class.)
Rules
2022-03-10 – You may use Clarent's ability multiple times to effectively prevent more damage.
Population
Normal – ≈7,500
For the full card stats, view this card on Grand Archive Index.
KSP · EN-005 PR
A foil version of the Clarent, Sword of Peace card was included in the Kickstarter promo set.
This card was announced alongside the Lorraine, Festive Night holoday promo on 22nd December 2021 in Kickstarter update #7.
This card was originally identified as KS PROMO-001.
This card was awarded to anyone who backed the Kickstarter campaign, giving it a total population of 1,539.